We are thrilled to be named a Top Video Production Agency in 2020 by Clutch!
Here at Dancing Line Productions, we help clients to tell their story in a memorable, engaging way through the magic of animation. Our goal is not just to effectively communicate their message but also to help "humanize" their brand, make it warm and relatable, establish a meaningful emotional connection between the brand and the consumer. Our animation is hand-drawn, carefully crafted, full of personality and heart.
We understand that our clients are extremely busy, juggling multiple projects and lots of responsibilities, so we make the whole process extremely smooth, convenient and worry-free for them by handling the entire production from the initial treatment proposal to completion. If required, we manage professional voice casting, take care of audio recording and music licensing, post-production and all the aspects, leaving to our clients only to review and approve the production on its different stages, making sure it fully aligns with their expectations.
In all our twelve years of existence we never missed a deadline or went over the agreed upon budget, and we pride ourselves with having many returning clients with whom we are privileged to have mutual appreciation and understanding. It shows that our animation is effective in helping them achieve their marketing objectives, and they find in us a reliable dependable partner that we strive to be. We are deeply grateful to them for providing us with creative opportunities, considering our recommended treatments and trusting us with delivering a high quality results. In the last few months we had a privilege of working with such clients as Canada Protection Plan, BPU Kansas and Tim Horton's.
In recognition of our efforts, we've been named a leading Canadian video production agency by Clutch, a resource for B2B providers. They employ a unique ratings methodology to compare and contrast leaders across a variety of industries.
We'd like to take this opportunity to thank our wonderful clients for helping us achieve this award! They took the time to engage with Clutch representatives to assess our performance on the basis of quality, attention to schedules, and our overall value for their budgets. We're happy to announce, in reflection of that feedback, that we've maintained a wonderful five out of five stars! Take a look at a a couple of recent reviews below: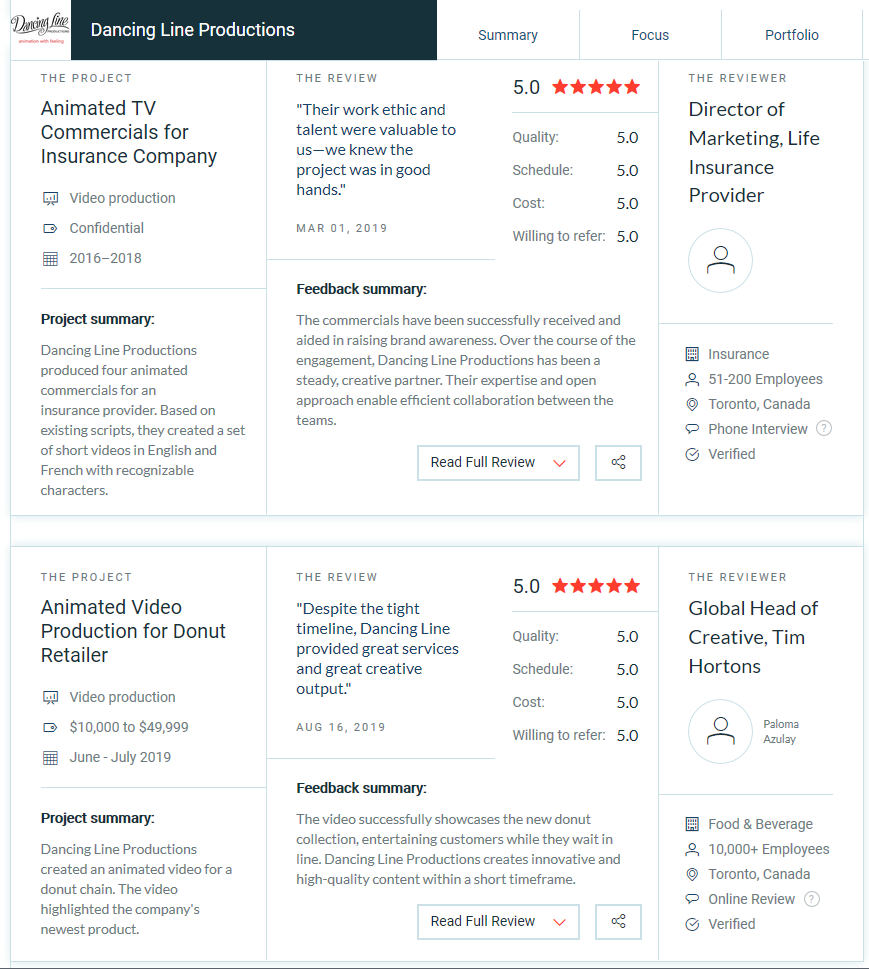 "We are thrilled with this recognition! In every project we strive to exceed our clients' expectations, and we are so happy to see it doesn't go unnoticed and brings results."
– Anik Rosenblum, Creative Director
We're proud to receive this award and look forward to helping even more clients across the globe tell their story!
Please drop us a line if you'd like to talk about your next video project idea with us today.