1. Canada Protection Plan TV campaign (2017-2018)
Dancing Line really enjoyed working with the creative Jake Fine on this fun campaign for Canada Protection Plan. So far we have produced three TV commercials with the little yellow mascot character we designed. The commercials became extremely popular with small kids and we have received many positive comments from delighted parents describing their kids' fascination with the ads. Many parents were thanking us for being able to use these animated spots for allowing to feed their little darlings or helping them to calm down, and many ended up even actively seeking out the online version for their kids. Some even asked for a "stuffy" toy version of the character. Although small kids were not necessarily our target audience for life insurance services, their parents definitely were an important part of it, and the client was really happy with the TV spots grabbing their attention.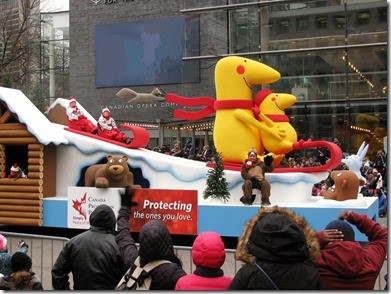 The mascot character even "made it big" this year by participating in the Toronto Santa Claus Parade as a giant float, seen by the attending crowd of 1 Mln (not mentioning the TV audience)!
2. Free AF – Animated song for Canada's 150th (2017)
The video was produced as a creative collaboration between the ad agency Rethink and Dancing Line Productions. It started with an idea to celebrate Canada's 150th birthday with a fun animated video. After discussing a few possible themes (Canada's history, nature, beauty), it was decided to focus on respect, tolerance and kindness to one another as one of the things that make Canada special. Canadian Centre of Diversity and Inclusion came on board as a natural partner to carry this message.
The creatives at Rethink developed the song concept and Dancing Line was responsible for the visual treatment. The greatest challenge was the tight schedule. The initial idea was to produce a 30 sec. video, but that had to be extended for the song concept to work. After the song was recorded I had seven weeks to produce the animation. With multiple characters to bring to life I had to come up with economic enough design and animation while keeping it entertaining and flowing naturally with the song. At Dancing Line we enjoy doing drawn frame-by-frame animation which is good for achieving expressive character performance but is a laborious process, so some carefully thought out self-imposed limitations were necessary to be able to release the video in time for Canada Day. The effort was well worth it though and I am grateful to Rethink for approaching this project with so much enthusiasm and coming up with such a fun and animation-friendly concept.
The video was released on June 26, 2017, just a few days before Canada's 150th anniversary, and has enjoyed quite significant viral success. It has been picked up by several known media publications such as Stash Magazine, Cartoon Brew, Boooom and has received a prestigious advertising award https://atomicawards.strategyonline.ca/winners
A few sketches of the many potential characters considered during the initial creative treatment.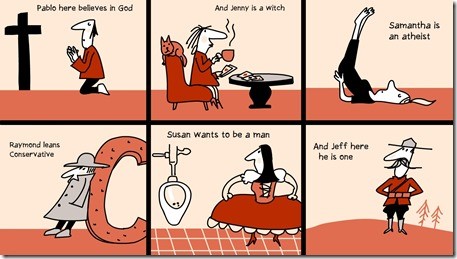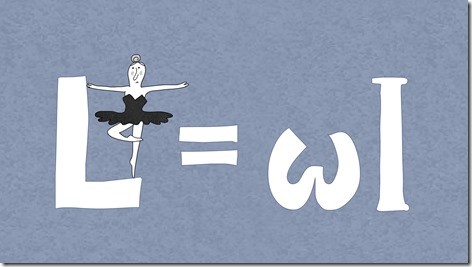 3. The Physics of the Hardest Move in Ballet – TED-Ed (2016)
"In the third act of "Swan Lake", the Black Swan pulls off a seemingly endless series of turns, bobbing up and down on one pointed foot and spinning around and around and around … thirty-two times. How is this move — which is called a fouetté — even possible? Arleen Sugano unravels the physics of this famous ballet move."
TED-Ed approached Dancing Line with this video concept. What attracted us to this script was its focus on the dancer's movement, something that we particularly enjoy doing in animation. Graceful and lively with a hint of personality – this is our forte!
Inspired by Tchaikovsky's powerful music and after watching several ballerinas performances we tried to represent the technical material of the lesson in a lighthearted playful manner. We focused on illustrating the points made in the narration in a clear, easy to follow way without being too realistic about all the performance details not covered in this study. The idea was to make it entertaining and as broadly appealing as possible.
The video was very enthusiastically received, with over 13 million views on Facebook  https://www.facebook.com/TEDEducation, 9K likes and reactions, 7K shares and 2 Mln views on Youtube, becoming one of the most popular TED-Ed animated videos.
4. Active Is What You Make It! – Animated PSA for the Heart and Stroke Foundation (2015)
We really had fun producing this PSA about the importance of being active.
Aimed at middle aged demographics with largely sedentary lifestyle, this was a fun reminder that there are many ways to be active, and you are most likely to stick with it when choosing a fulfilling activity best suited for your personality.
Rather than being perceived as nagging, we wanted to communicate this in a lighthearted humorous way, showing a relatable average-looking character engaged in various activities in his own personal non-athletic way.
5. Virginia Hospital Center TV campaign (2013-2015)
Working with the ad agency Williams Whittle, we have produced five TV spots for Virginia Hospital Center.
The creative brief was to come up with an appealing linear animation style to tell the stories of a different more personable hospital experience.
The campaign included five animated TV spots and a number of illustrations for print advertisements.
Design and animation by Anik Rosenblum
From print campaign – designed by Anik Rosenblum
For a couple of these spots Dancing Line decided to reach out to the renown illustrator Norm Bendell to help us to define the character look. Norm's unique style felt like a particularly good fit with this project.
Although for most of our projects we produce everything in-house from concept development and design, we are also happy to bring on board great illustrators and designers whenever we feel that a project would benefit from a particular look, and we enjoy bringing these characters to life in ways that feel true to them and complement the design.